About Dr.Grant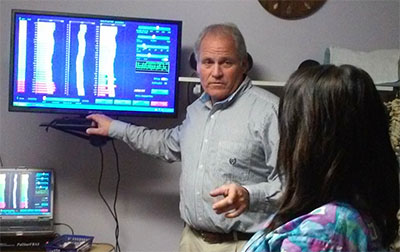 ​Dr. Andy Grant is a graduate of Appalachian State University in Boone, NC and Palmer College of Chiropractic in Davenport, Iowa, and is in his 38th. year of practice. He started out as an associate doctor at Batchelor Chiropractic Clinic in Boone N.C., and also practiced in West Jefferson, NC , Charlotte, and Morganton, NC.
He relocated to Miami, FL in 1985 and founded the Coral Reef Chiropractic Center, which is now owned and operated by Dr. Mark Pepin. " Practicing in South Florida was a great learning experience, I was able to treat people from diverse cultures and dozens of different countries ". I also had the opportunity to treat athletes from little league, high school, and college teams, as well as professional athletes from the NFL, NBA, and Major League Baseball. After his two sons; Daniel, now 31, and Kyle 26 were born, he decided to return to the WNC mountains in 1995.
He built his office on the " 5 Lane " in Marion and lives in the North Cove area of McDowell County. " We've got 2 dogs, 2 cats, and 3 or 4 horses and a donkey running around here, so I'm always watching where I step. "
When not in the office seeing patients, Dr. Grant is usually busy maintaining things around the farm. He is also an avid weightlifter, snowboarder, water skier, wake surfer, golfer, and still plays Rugby in his dreams.